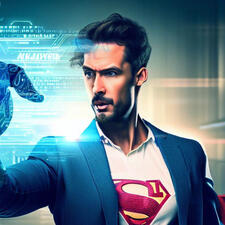 Super lawyer!
Unleash Your Legal Superpowers with AI
🌐 Join an Elite Legal Network: Join an exclusive circle of like-minded, forward-thinking law professionals sharing AI innovations and experiences with daily workings of lawfirm.
💰 Cash in on AI: Streamline your practice, increase billable hours, and watch your profits skyrocket thanks to the power of AI.
🔥 Save your firm from AI: Stay ahead of the curve by embracing AI technology now, ensuring your success in the rapidly evolving legal landscape.
What other Super lawyers are saying!
🤔 "I was skeptical about using AI in my law practice, but ChatGPT has been a game-changer! 🚀 I've attracted more high-value clients 💼, and they love how quickly I can respond to their needs. Thanks, Super Lawyer!" - Sarah K. 😊
🌟 "Super Lawyer has revolutionized my firm's operations. ChatGPT saves me so much time ⏰ on routine tasks, allowing me to focus on growing my business and winning more cases. Can't recommend it enough!" - Mark L. 🙌
💡 "The insights and strategies shared in the Super Lawyer community have transformed my approach to law. By embracing AI, I've gained a significant edge over my competition 🥊 and boosted my firm's revenue 💰." - Julia M.
🎉 "Joining Super Lawyer was the best decision I made for my practice. ChatGPT has not only helped me attract new clients 🤝, but also retain existing ones with its personalized and efficient service 🏆." - David P.
🔍 "The Super Lawyer group is a goldmine of AI knowledge and expertise 💎. It has empowered me to innovate and stay ahead of the curve in the legal industry, making my firm more successful than ever 📈." - Lisa R. 😁